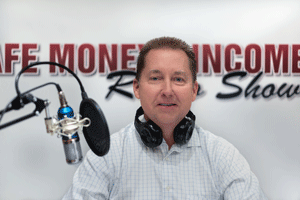 Eric Hutter
Eric M. Hutter is a multi-state licensed financial professional with over 25 years of experience. More specifically, he specializes in planning for and protecting your retirement. He is a featured author and contributor to FOXBusiness.com.
Eric, a native Floridian, is married to Laura for nearly 15 years. They are family oriented and are the proud uncle and aunt to 14 nieces and nephews. They enjoy activities such as fishing, boating, hiking, biking and reading. Eric, an avid fisherman, participates in regional fishing tournaments and events whenever possible.
As the host of the Safe Money Radio Show and a nationwide presenter of Safe Money Concepts, Eric has enjoyed helping people all across the nation protect their retirement money. "Over the years, I have helped people of all ages protect millions of dollars in retirement assets and not one of those people has ever lost a penny from market downturns. There is something truly wonderful about being able to help people have peace of mind about their financial future."
Eric is able to sleep at night with the comfort of knowing his client's retirement funds are protected. It is his desire to give you that same peace of mind.
Please tune in to tune into the Safe Money & Income radio show on Oldies 103.7 FM on Sunday mornings 9:00 to 10:00 a.m.